"The first program where I saw the results, both functional and aesthetic, already in the first 4 weeks."

⭐⭐⭐⭐⭐

Niks G.
"I never thought I would come this far. In the beginning I was really skeptical if this is possible at all. I can recommend it to anyone who is looking for a long-term change"."

⭐ ⭐ ⭐ ⭐ ⭐

Lukas S.
"The investment in the ebook, was an investment in my fitness, in my body and in my well-being. Whoever follows through the 12 weeks will be surprised about the positive changes".

⭐ ⭐ ⭐ ⭐ ⭐

Sarah W.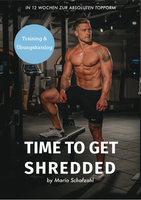 Meine Trainingsphilosophie
Das Trainingskonzept von "Time to get shredded" bringt dich nachhaltig in deine absolute Topform.
Der 12-wöchige Trainingsplan ist strukturiert mit drei Phasen und regelmäßigen Steigerungen aufgebaut. 
In jedem Workout sind Übungen für eine starke Körpermitte integriert und bringen dich in einen einzigartigen "Trainingsflow".
Du wirst an deine Grenzen gepusht und wirst dich nach jeder Trainingseinheit wie neu geboren fühlen!
zum ebook
Mein Ernährungskonzept
Die Ernährungsweise in "Time to get shredded" ist intuitiv und leistungsorientiert aufgebaut.
Du bekommst neben den wichtigen Fakten, meine Denkweise erklärt und kannst mit den Beispielplänen und Rezepten sofort in die praktische Umsetzung gehen.
Dieses Ebook soll dir dabei helfen in 12 Wochen deine absolute Topform zu erreichen und ergänzt sich perfekt mit der Trainingsphilosophie von "Time to get shredded". 
Du lernst wichtigen Orientierungen und Prinzipien, die dir dabei helfen langfristig damit du die erreichte Form auch langfristig erhalten kannst.
überzeuge dich selbst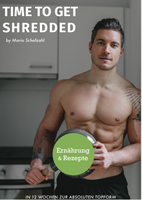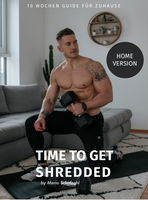 Home Version
Im letzten Jahr habe ich mich enorm viel mit "Home Workouts" beschäftigt und versucht meine Trainingsphilosophie in die eigenen vier Wände zu bringen.
Hier ist das Ergebnis! Die Home Version von "Time to get shredded" bringt dich mit minimalen Equipment und auf wenigen Quadratmeter an deine Grenzen. 
Mit diesem Ebook holst du dir eine "gym-ähnliche" Atmosphäre nach Hause und kannst weiterhin richtig Gas geben.
Dieser Guide ist auch bestens als Übergangsphase geeignet.
let´s train at home
spare 15% mit den bundles